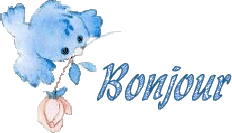 tout le monde!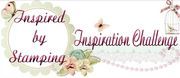 Pour ce défi, il fallait réaliser une carte ou un projet en s'inspirant de l'image ci-dessous et en respectant les couleurs: jaune, bleu et rose.
For this challenge, it was necessary to accomplish a card or a plan in inspired of the picture mentioned below and by respecting colours: yellow, blue and pink.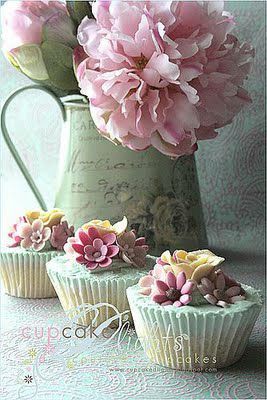 J'ai donc voulu créer une carte tout en m'inspirant des cupcakes se trouvant sur cette table et donc en réalisant un cupcake en 3D.
I have therefore wanted to create a card very there by inspiring me of cupcakese being on this table and therefore by accomplishing a cupcake 3 D.
Here is therefore my card.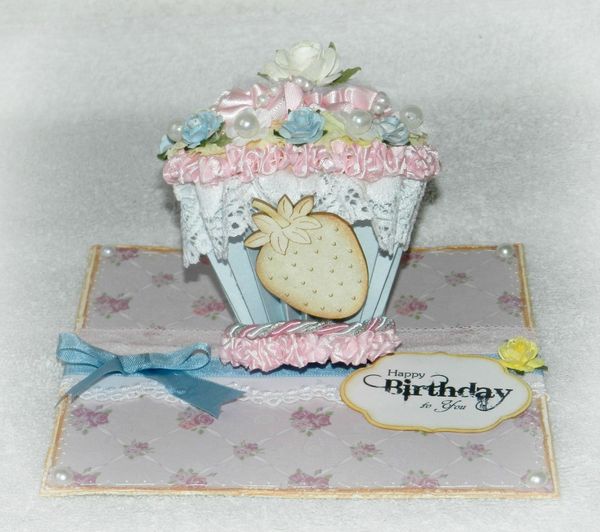 Quelques détails et explications:
Some details and explanation: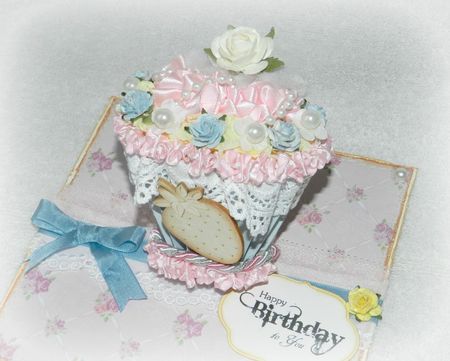 J'ai utilisé un papier Carte US fleuri et de la cartonnette pour la base. Le cupcake est réalisé avec des papiers Toga et un quart de boule en polystirène. J'ai réalisé une couture tout autour avec ma machine à coudre. Le papier est également usé et encré à l'encre Distress Tea Dye.
I have used a paper Card US full of flowers and of the cartonnette for the foundation. The cupcake is accomplished with papers Toga and a quarter of bowl in polystirene. I have accomplished a dressmaking all around with my machine to be sewed. Paper is also employed and inked in Ink Distress Tea Dye.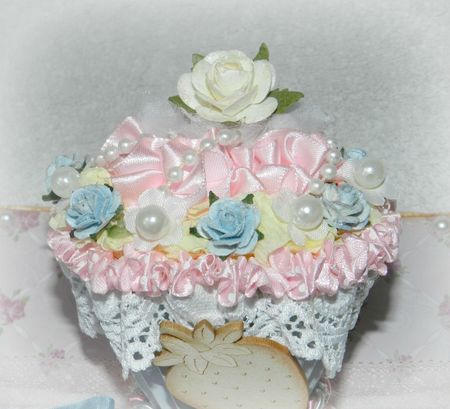 Pour la décoration du cupcake, j'ai froncé quelques rubans en satin rose uni et rose à pois, coupé en fines lamelles du papier crêpon jaune, tourné un ruban de fleurs blanches en tissu, collé de la dentelle blanche tout autour et ajouté quelques fleurs que j'ai recouvertes de Glitter Stickels Clear. J'ai également ajouté une fraise en carton bois de chez Embelliscrap que j'ai recouverte de crème Winter Frost de Creative Inspiration pour un effet nacré.
For the decoration of the cupcake, I have frowned some united and pink pink satin cordons with pea, cut in fine small strips of crepon yellow, turned paper a cordon of white flowers in cloth, glued together by the white lace all around and added some flowers that I have covered with Glitter Stickels Clear. I have also added a pasteboard strawberry wood from Embelliscrap that I have covered with cream Winter Frost Creative Inspiration for a pearly effect.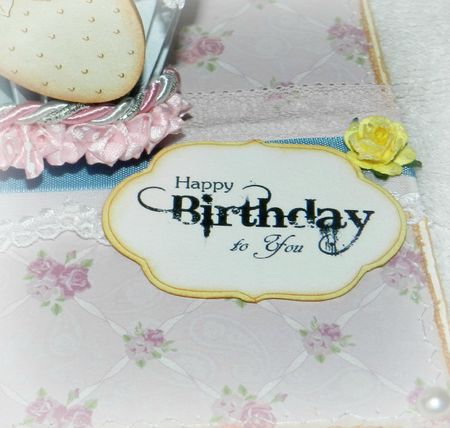 Le sentiment "Happy Birthday to You" est une étiquette imprimée sur du cardstock blanc puis matté sur une chutte de cardstock jaune. Chaque papier est encré à l'encre Distress Tea Dye.
The sentiment "Happy Birthday to You" is a tab printed on the white cardstock then on a fall of cardstock yellow. Every paper is inked with Ink Distress Tea Dye.
Et voilà pour aujourd'hui! je vous souhaite une excellente après-midi à ous et vous dis à très bientôt!
And here is for today! I wish you very good one afternoon all and say to you in very soon!