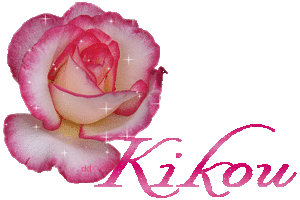 tout le monde!
Aujourd'hui, je viens vous montrer un petit projet réalisé dans le cadre du challenge de la semaine sur le site "
Shabby Tea Room
". Pour ce défi, il fallait réaliser une carte, un projet en s'inspirant de l'image suivante:
Today, I come to show you a small plan accomplished as part of the tournament of the week on the site "
Shabby Tea Room
". For this challenge, it
was necessary to accomplish a card, a plan inspired of the picture following: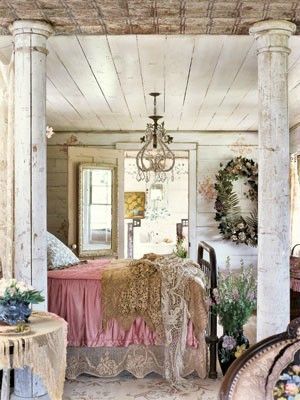 Il fallait respecter les couleurs
: blanche/crème, kraft, rose et mettre de la dentelle.
It was necessary to respect colors

: white/cream, kraft, pink and lace.
Voici ce que cette image m'a inspiré
:
Here is that this picture has me inspired

: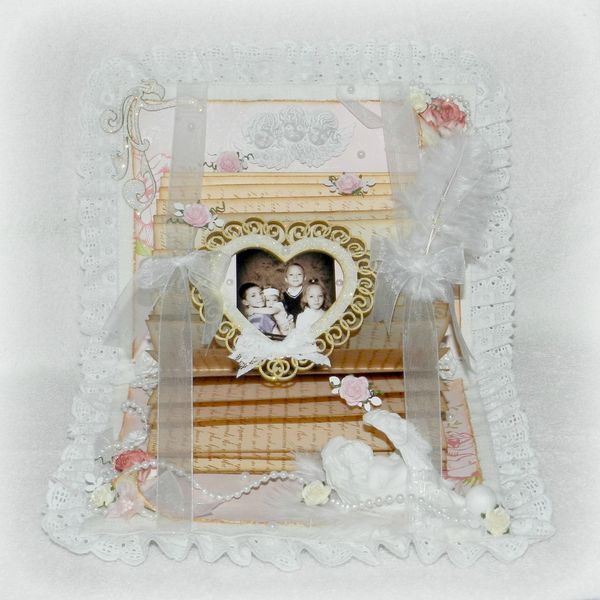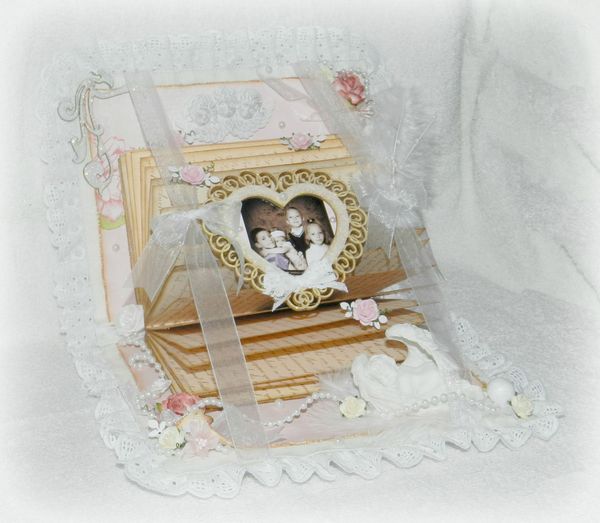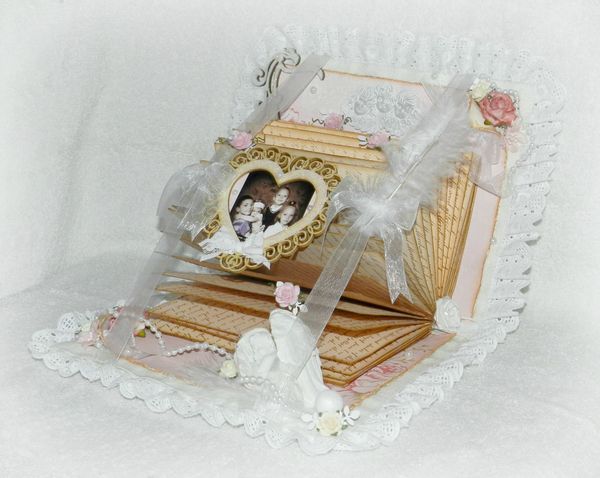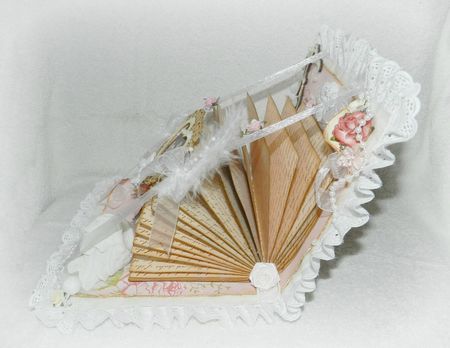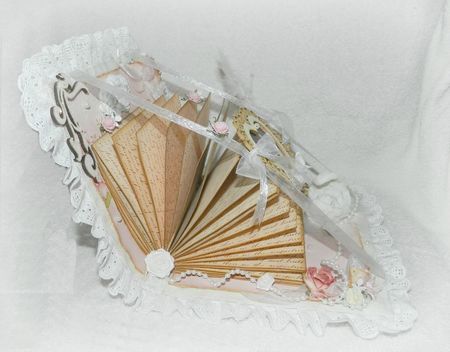 Un projet qui m'a pris beaucoup de temps mais que j'ai adoré réalisé! un home déco parfait pour mon salon reprenant la photo de classe de cette année reprenant 4 de mes petits anges.
A plan which has me taken a lot of time but that I have loved accomplished! a decorative home improves for my living room taking back the photograph of class
of this year taking back 4 of my small angels.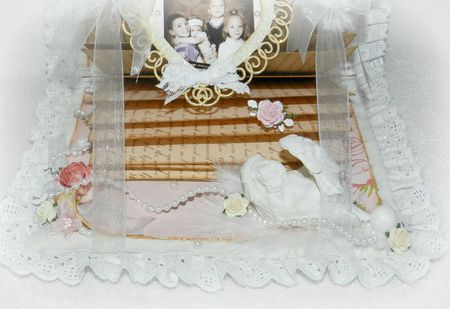 Pour réaliser le livre, j'ai utiliser du bazzil cardstock crème que j'ai usé puis encré. Une fois relié grâce à un accordéon, on obtient un parfait petit livre.
To accomplish the book, I have to use of the cream bazzil cardstock that I have employed then inked. Once linked up thanks to an accordion, they acquire a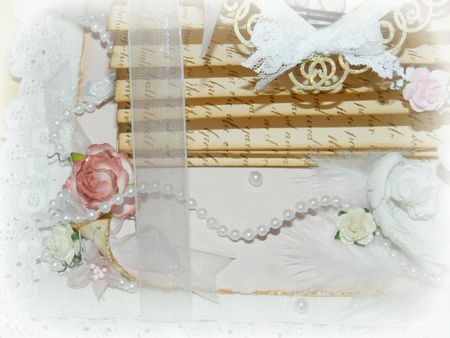 Pour décorer l'avant du livre, j'ai utilisé un ange couché en plâtre, un peu de ruban de perles et quelques fleurs roses et blanches de différenes tailles. Le papier rose du fond est encré à la Glimmer Mist Pearl pour un effet nacré.
To decorate the front of the book, I have used an angel put to bed in plaster, a bit cordon of pearls and some pink and white flowers of different sizes. The pink paper of the bottom is inked to the Glimmer Mist Pearl for a pearly effect.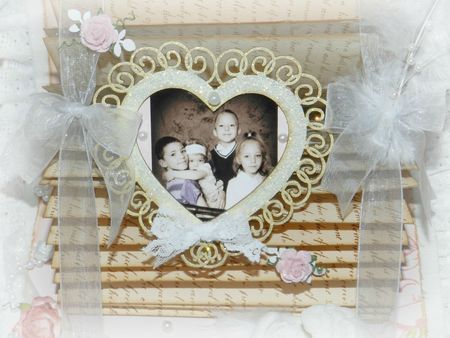 La photo est collée sur un morceau de papier rose placé sous un coeur ciselé en carton bois de chez Embelliscrap. Un peu de Glitter Stickels Diamond, une chute de dentelle nouée et quelques perles le décorent.
The photograph is glued together on a piece of pink paper put under a carved pasteboard heart wood from Embelliscrap. One can of
Glitter Stickels Diamond, a fall of tied lace and some pearls decorate it.
Le côté gauche est juste décoré d'un ruban de perles nacrées blanches et d'une fleur confectionnée en ruba organza blanc.
The left side is just decorated with a cordon of white pearly pearls and with a flower made there ruba organza white.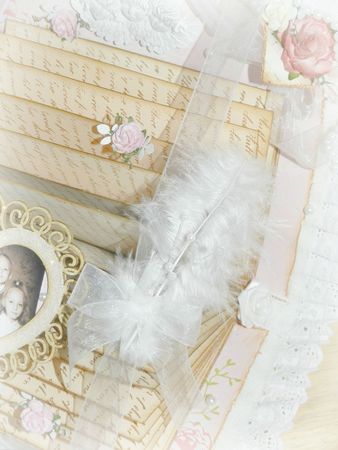 A droite, une plume blanche, du fil de toutes petites perles roses et blanches.
To the right, a white feather, of the thread of all small pink and white pearls.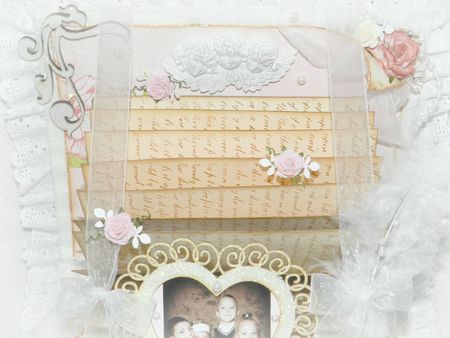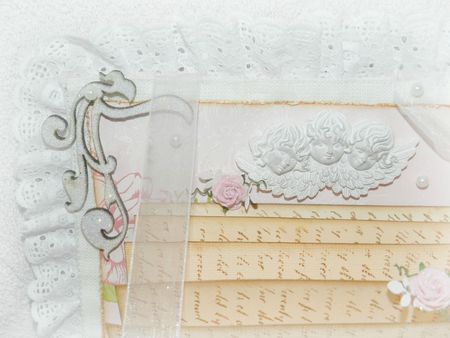 La décoration du haut du livre comprend un embellissements en plâtre représentant des anges de chez Mélissa Frances, quelques perles nacrées de 4 mm de diamètre, une petite rose rose WOC, un coin en bois ScraDésirs que j'ai recouvert de fines paillettes blanches.
The decoration from the top of the book consists of one decorating in plaster representative of the angels from Mélissa Frances, some pearly pearls of 4 mm in diameter, a small pink rose (WOC), a wooden corner ScraDésirs that I have covered with fine white spangles.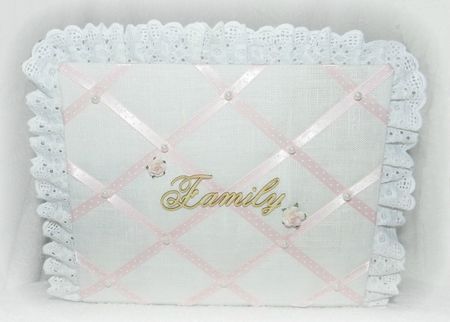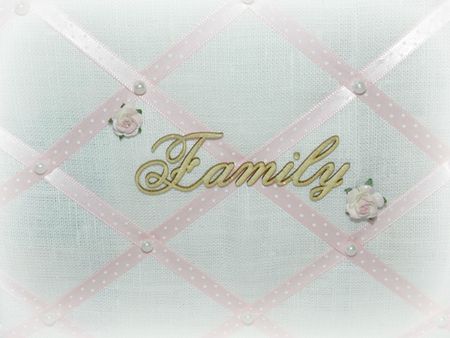 Enfin, la couverture extérieure du livre est réalisée avec du lin écru, de l'ouatine (ou filtre à hotte en mousse) pour un effet capitoné et du ruban organza rose à pois blanc. Pour le titre, il s'agit d'un mot en carton bois Embelliscrap recouvert de Glitter Stickels Diamond. Deux petites roses (WOC) finissent la décoration.
Finally, the outside coverage of the book is accomplished with some unbleached flax, of the ouatine (or filter with basket in ship's apprentice) for a capitoné effect and of the cordon pink organza in white pea. For title, it's a pasteboard word wood Embelliscrap covered with Glitter Stickels Diamond. Two pink roses babies (WOC) finish decoration.
J'espère que vous avez apprécié ce petit home déco.
I hope that you appreciated this baby decorative home.
Si c'est le cas et que vous désirez le réaliser également, j'ai préparé lors de sa réalisation, un tutoriel complet comprenant les explications pas-à-pas avec photos. Il vous suffit de me le demander via "Contacter l'auteur" et je vous l'enverrai par mail. Il s'agit d'un fichier pdf.
If it's the case and that you want to accomplish it also, I have prepared during his realization, a complete tutorial consisting of explanation with
photographs. You only have to ask me for it via " Contact l 'auteur " and I will you sent by mail. It's a file pdf.
Voilà pour aujourd'hui! je vous remercie pour vos nombreux commentaires et/ou mails qui me font très plaisir à chaque fois.
Here is for aujourd 'hui! I thank you for your numerous comments and/or mails who very please me every time.
A bientôt.
Scrapbizssssssssssss