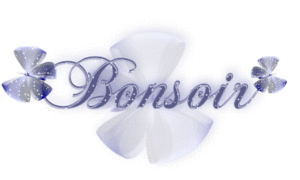 amis scrappeurs et scrappeuses!
Good afternoon my friends!
Je reviens aujourd'hui pour partager avec une carte Magnolia réalisée cet après-midi.
I come back aujourd 'hui to share Magnolia with a card accomplished in the afternoon.
Vue que la semaine prochaine, je n'aurai pas la possibilité de scrapper, il a fallu que je cumule ma réa pour trois challenges:
Seen that next week, me could not the possibility of scrapper, it was necessary that I hold concurrently my réa for
three tournaments
:
1. Just Magnolia and Hanglar & sTanglar challenge Blog
:
Il fallait choisir dans le bingo une ligne soit horizontale, soit verticale, soit en
It was necessary to choose a line in bingo am horizontal, either vertical, or in diagonal.
J'ai choisi la seconde ligne verticale, donc: Bleu, fleurs et glitter.
I have chosen the second vertical line, therefore: Blue, flowers and glitter.
2. Tilda's Town:
Il fallait réaliser une carte masculine en utilisant uniquement un tampon Edwin.
It was necessary to accomplish a masculine card by using a stamp only Edwin.
3. Made Especially for you challenge:
Il fallait réaliser une carte en utilissant uniquement trois couleurs: bleu, marron et blanc pour ma part.
It was necessary to accomplish a card in utilissant only three colours: blue, brown and white for me.
Voici donc ma carte: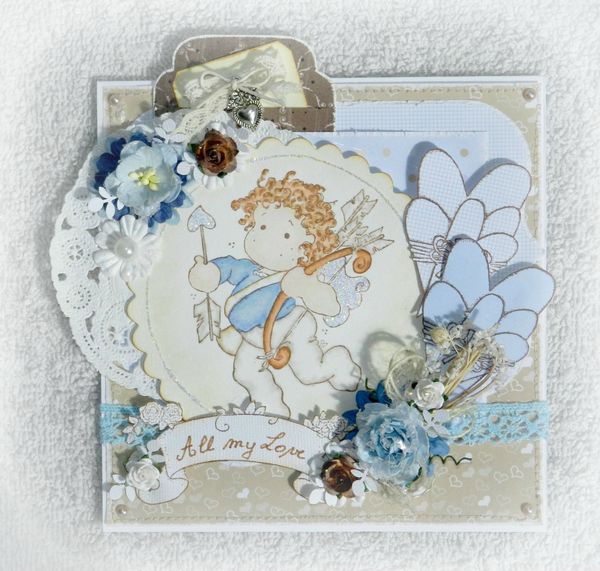 J'ai utilisé 3 tampons Magnolia pour la confection de cette carte
:
I have used 3 stamps Magnolia for the ready-to-wear clothes of this card:
- Magnolia Valentino
- Magnolia Heart
- Magnolia Wrapped Love
Les détails et explications
: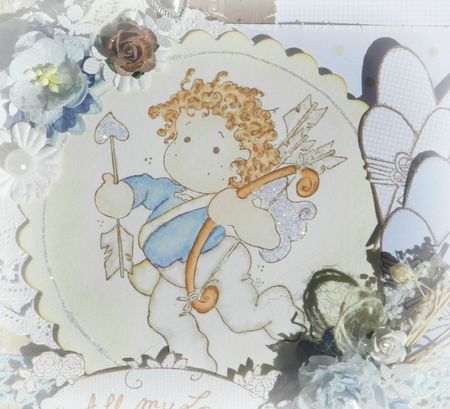 Le tampon Magnolia est colorié avec de l'encre Distress Tatterd Rose pour le visage et les bras. Pour les cheveux et le reste du dessin, j'ai utilisé des feutres Copic (E00, E31, E35, W2 et 0. Pour la blouse, j'ai utilisé un crayon aquarellable. L'aile est recouverte de Glitter Stickels Diamond.
The stamp One colours in Magnolia with of InkDistress Tatterd Rose for the face and arms. For hair and rest of the drawings, I have used by felt Copic
(E00, E31, E35, W2 and 0. For the smock, I'm having used a pencil aquarellable. The wing is covered with Glitter Stickels Diamond.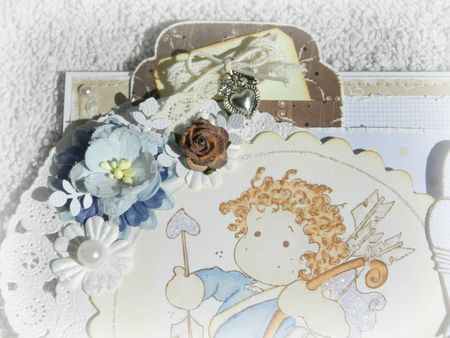 J'ai glissé un tag dans une petite enveloppe faite main, surmonté d'un charm coeur et d'une chute de dentelle et ficelle de cuisine.
I'm having slipped graffiti into a baby envelop hand made, having overcome heart charm and with a fall of lace and twine of kitchen.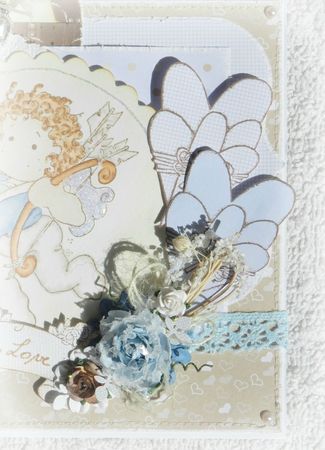 A droite, j'ai détouré le tampon Magnolia coeur deux fois sur deux chutes différentes puis je les ai collés avec des petits carrés de mousse 3D.
To the right, I have cut the stamp Magnolia heart twice on two different falls then I glued together them with small squares of ship's apprentice 3D.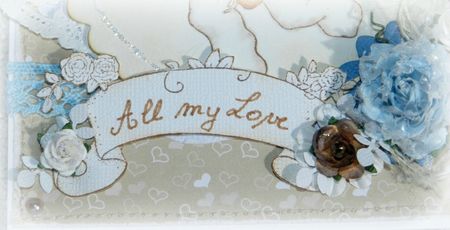 Pour le sentiment, je l'ai écrit à la main avec un feutre marron sur le tampon Magnolia Wrapped Love que j'ai détouré en partie.
For feeling, I have it writes in the hand with a brown felt on the stamp Magnolia Wrapped Love that I have cut partly.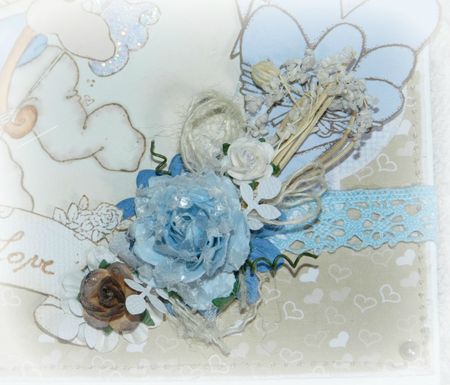 Quelques fleurs recouvertes de Glitter Stickels Diamonds et de paillettes de Noël décorent les deux coins opposés au tampon.
Some flowers covered with Glitter Stickels Diamonds and with Christmas spangles decorate both corners compared to the stamp.
Pour le reste du matériel: papiers Toga, perforatrice feuillage et grains de blé.
For the rest of the equipment: papers Toga, drill foliage and grains of wheat.
Voilà pour ce soir. Je vous souhaite à tous une excellente soirée!
Here is for this evening. I wish you to all a very good party!
Scrapbizsssssssssssssssssssss