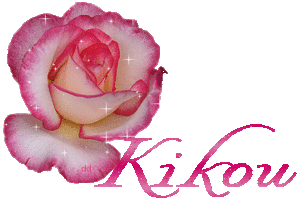 tout le monde!
Me revoilà déjà après une magnifique journée ensoleillée pour vous montrer une petite carte d'anniversaire dans une forme inhabituelle, le triangle.
Here I am again already after magnificent day brightened up to show you a small birthday card in an unusual shape, the triangle.
Cette carte rentre dans plusieurs défis:
This card goes into several challenges:
2) Défi 15 de "
Just a Scrappin
": carte pour célébrer en rose, bleu, blanc et ajouter 3 demies-perles -
Celebrate and pink, blue, white and add 3 half pearls or rhinestones

.
4) Defi 167 de "
Allsorts
":
Going around in circles
.
Pour ces défis, j'ai choisi la forme triangulaire pour faire ma carte. Une forme pas habituelle, mais que je trouve très intéressante.
For these challenges, I chose the triangular shape to make my card. A not usual shape, but which I find very interesting.
Voici en images!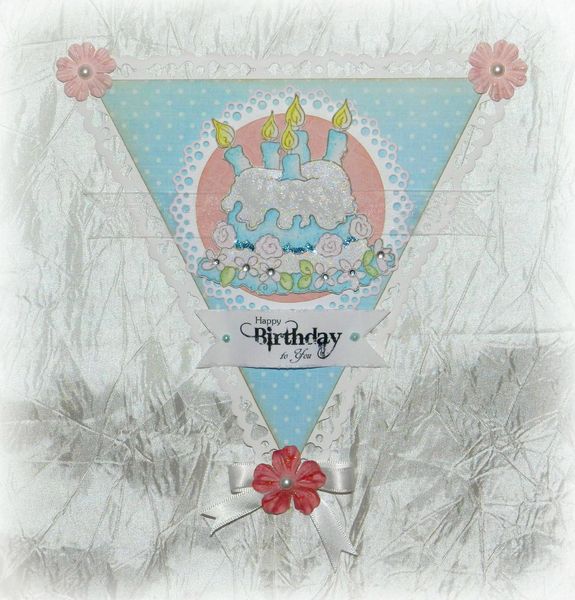 Pour faire les bords du contour de la carte, j'ai utilisé une perforatrice bordure "Coeurs" de marque Cart-Us. Le papier bleu à pois est un papier Fancy Pants encré à l'encre Distress Ink Tea Dye. Trois fleurs Prima sont collées à chaque extrémité du triangle et à la pointe, un noeud en satin est mis sous la fleur.
To make the edges of the outline of the card, I used an electric puncher border "Leading hearts" Cart-Us. The polka-dot blue paper is a paper Fancy Pants inked in the ink Distress Ink Tea Dye. Three flowers Prima are stuck on every extremity of the triangle and on the point, a satin knot is put under the flower.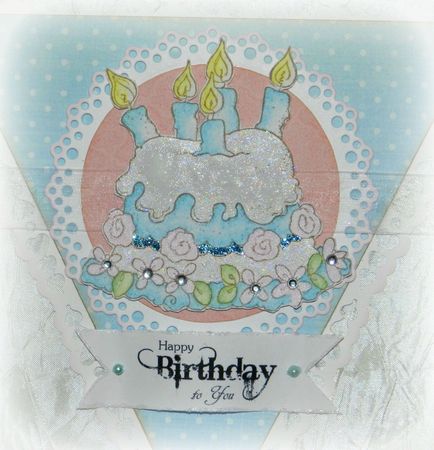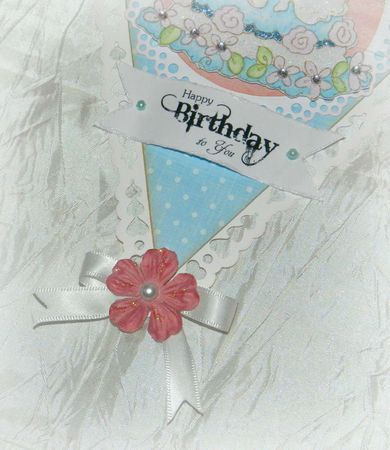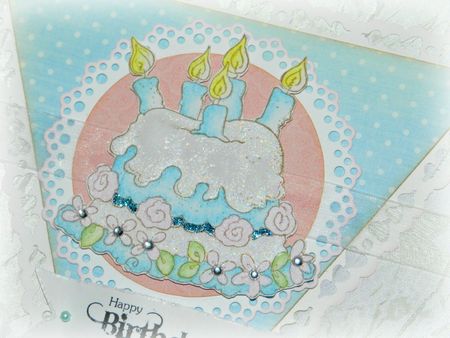 Le tampon "Gâteau" est un tampon Magnolia colorisé avec des crayons aquarellables, du Glitter Stickels bleu et de la peinture gonflante pailletée. Un cercle Dies reçu d'une amie est mis sous le tampon. Quelques strass sont collés sur le gâteau pour un effet brillant.
Le sentiment est réalisé sur l'ordinateur grâce à un free digi.
Voilà pour ce soir! je vous souhaite à tous une excellente nuit et vous dis à très bientôt pour un nouveau home déco.
The plug "Cake" is a plug Magnolia colorized with aquarellables pencils, of blue Glitter Stickels and paint(painting) spangled gonflante. A circle Dies received from a friend is put under the plug. Some pastes are stuck on the cake for a brilliant effect.
The feeling is realized on the computer thanks to a free digi.
Here is for this evening! I wish you all an excellent night and say to you in very soon for a new home decoration.
Scrapbizsssssssssssss