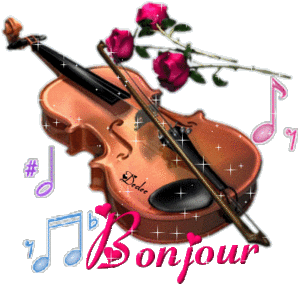 tout le monde!
Ce matin, je viens vous montrer une autre carte. Moi qui n'aimais pas faire de carte avant, je commence à en avoir un fameux stock, mdr. Comme quoi, il ne faut jamais dire jamais, hihi.
This morning, I come to show you another card(map). I who did not like making of card(map) before, I begin to have a famous stock of it, lol. As what, never say never, hihi.
Il s'agit d'une carte qui rentre dans 6 défis
:
It is about a card(map) which goes into 6 challenges

:
J'ai choisi
: ruban, perles et image.
I have chosen

: ribbon, pearls and image.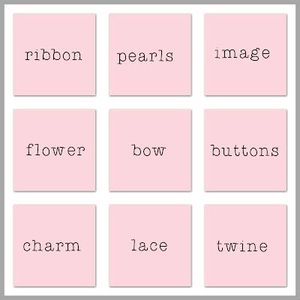 5) Defi week 167 de "
Just Magnolia
": Pearls and swirls (perles et swirls).
J'ai choisi
: ruban, libre et fleurs.
I have chosen

: ribbon, free and blooms.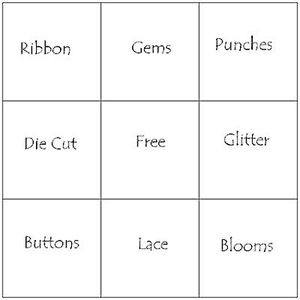 Voici ma carte!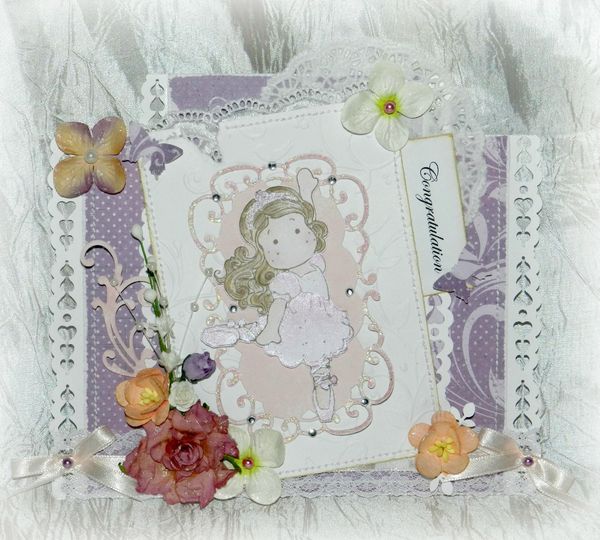 Les papiers sont des papiers de la marque "7 Dots Studio", collection "All I never...". Chaque papier est cousu avec ma machine à coudre. Les bors des papiers blancs sont perforés avec une perforatrice bordure "Cart US". De la dentelle blanche dans laquelle j'ai passé un ruban en satin saumon décore le bas de la carte. Deux petits noeuds dans ce même ruban sont collés à chaque extrémité de cette dentelle.
Papers are papers of the mark " 7 Dots Studio ", collection " All I never ". Every paper is sewn with my sewing machine. The bors of the white papers is drilled with a puncher border " US Cart ". Of the white lace in which I crossed a satin ribbon salmon decorates the bottom of the card. Two small knots in the same ribbon are stuck on every extremity of this lace.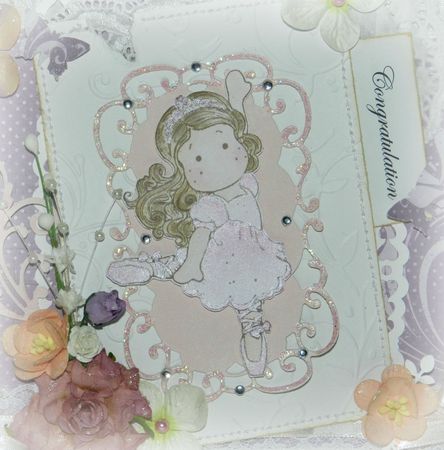 Le tampon est un tampon Magnolia que j'ai colorisé avec des encres Distress (tea dye, old papier, walnut stain) pour les cheveux, de l'encre Distress Tattered Rose pour la peau et Brillance Orchid pour les vêtements, les chaussons et la couronne. J'ai utilisé une matrice Marianne Design pour la forme sous le tampon dans une chute de papiers rose. Le bord de cette découpe est recouvert de Glitter Stickels Frost et quelques strass pour la décoration. Le fond blanc est embossé avec une matrice et la cuttlebug.
The plug is a plug Magnolia which I colorized with ink Distress (tea dye, old paper, walnut stain) for hair, some ink Distress Tattered Rose for the skin and Shine Orchid for clothes, slippers and crown. I used a matrix Marianne Design for the shape under the plug in a pink fall of papers. The edge of this cut is covered with Glitter Stickels Frost and some pastes for the decoration. The white bottom is embossed with a matrice and the cuttlebug.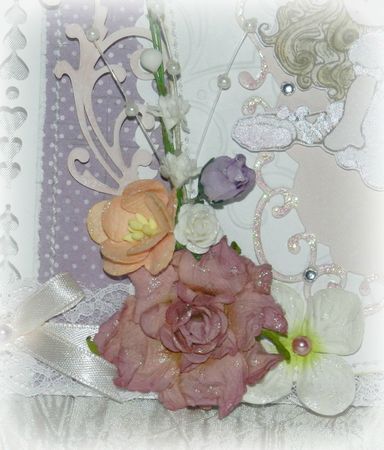 Des fleur Prima, des fleurs de cerisier, une petite rose mauve et une petite rose blanche du magasin Wild Orchid Craft, des fils de perles nacrées, une petite branche, un swirls découpé à la cuttlebug et une matrice Marianne Design, décorent la carte. Toutes les fleurs sont également recouvertes de Glitter Stickels Frost. Des petites perles font le coeur des trois Hydragénas.
Some Prima's flowers, flowers of cherry tree, a small mauve rose and a small rose white with the store Wild Orchid Craft, the threads of pearly pearls, a small branch, a swirls cut in the cuttlebug and a matrice Marianne Design, decorate the card. All the flowers are also covered with Glitter Stickels Frost. Pearls make the heart three hydragénas.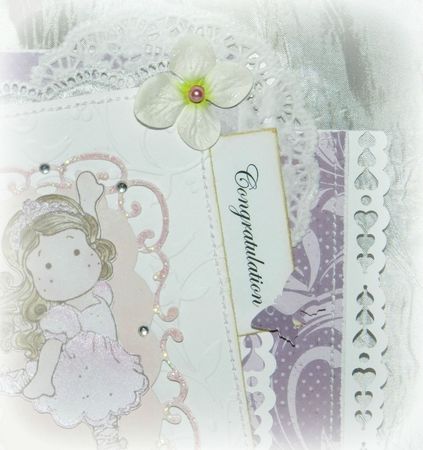 Le sentiment est fait sur l'ordinateur puis imprimé sur un morceau de cardstock blanc. Deux papillons réalisés avec une perforatrice décorent également la carte.
The feeling is made on the computer then printed on a piece of cardstock white. Two butterflies realized with an puncher also decorate the card.
Je vous remercie encore de vous être arrêté ici ainsi que pour tous vos petits mots si agréables.
I still thank you for being stopped to you here as well as for all your small words so pleasant.
Je vous souhaite un excellent dimanche à tous! A bientôt!
I wish you excellent Sunday to all! A soon!
Scrapbizssssssss