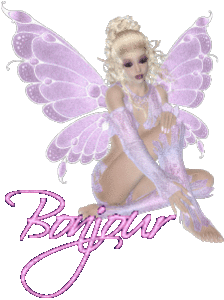 les amis!
Me revoilà déjà avec une nouvelle réalisation, une petite carte.
Here I'm again already with a new realization, a small card.
Cette carte rentre dans plusieurs défis
:
This card goes into several challenges

: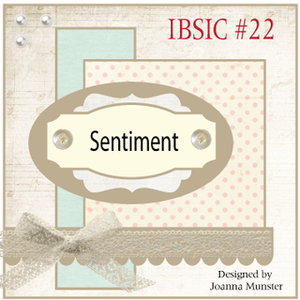 2)
Défi PSC 45 du site "Perfect Sentiment"
: Pois et remerciement -
Polka Dot and thanks
.
7)
Défi PWC 219 du site "Paper Pretties"
: carte carrée -
Square Cards
.
8)
Défi IIC 72 du site "Inky Impressions" + participations au blog hop
: Perles et/ou strass -
Pearls and/or strass
.
Mon interpréation:
My interpréation: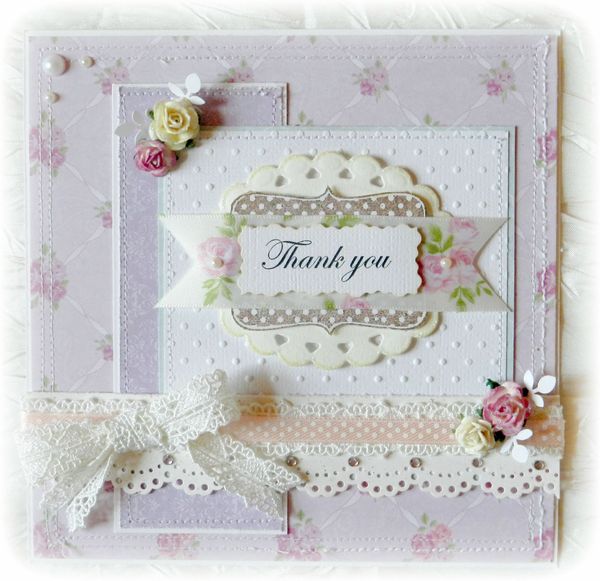 Comme pour toutes mes cartes, le fond est à base de papier bristol blanc. Le papier mauve est un papier Carte-Us, petit bloc. De la couture est réalisée sur chaque papier. J'ai également utilisé diverses chutes de papiers pour les petits morceaux. Sous l'étiquette, un morceau de papier Cardstock American Crafts est embossé avec la cuttlebug et une matrice pois.
As for all my cards, the bottom is with paper white visiting card. The mauve paper is a paper Cart-US, small block. The sewing is realized on every paper. I also used diverse falls of papers for the small pieces. Under the label, a piece of paper Cardstock American Crafts is embossed with the Cuttlebug and a matrice pea.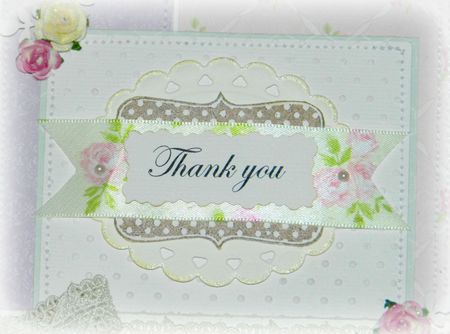 L'étiquette est réalisée en 3 D grâce à de la mousse. Un dies ser de base. Dessus sont mis en volume: un tampon étiquette à pois Florilèges Desing, un ruban et un sentiment "thank you" réalisé avec un logiciel d'écriture. Le sentiment est découpé avec des ciseaux cranteurs puis encré à l'encre Distress Tea Dye. Le tour du dies est recouvert de Glitter Stickels Diamond de Ranger.
The label is realized in 3 D thanks to the foam. A dies ser of base. Above are put in volume: a plug labels polka-dot Florilèges Design, a ribbon and a feeling " thank you " realized with a software of writing. The feeling is cut with cranteurs scissors then inked in the ink Distress Tea Dye. The tour of the dies is covered with Glitter Stickels Diamond of Ranger.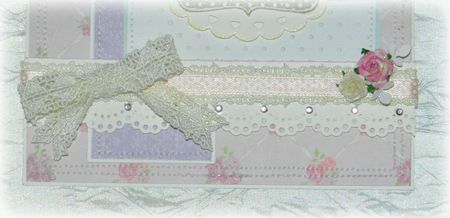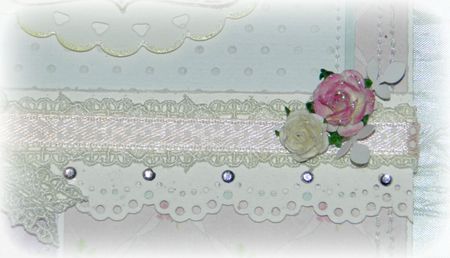 Sur le bas de la carte j'ai collé un morceau de cardstock blanc perforé avec une perforatrice bordure "Martha Stewart". Dessus, sont collés, un morceau de dentelle blanche et ensuite un morceau de ruban satin à pois rose clair. Quelques strass terminent la décoration ainsi que des roses venant de la boutique Wild Orchid Crafts. Elles sont également recouvertes d'un peu de Glitter Stickels Diamond.
On the bottom of the card I stuck a piece of cardstock white drilled with a puncher border "Martha Stewart". Above, are stuck, a piece of white lace and then a piece of ribbon light pink polka-dot satin. Some pastes end the decoration as well as roses coming from the shop Wild Orchid Crafts. They are also covered with a few Glitter Stickels Diamond.
Voilà pour aujourd'hui. Je retourne de ce pas dans ma scraproom terminer un home déco où il fait frais! hihi.
Here is for today. I return of this step to my scraproom to end a home decoration where it makes freshly! Hihi.
Je vous souhaite un excellent dimanche et vous dis à demain!
I wish you excellent Sunday and say to you in tomorrow!
Scrapbizssssssssssssss