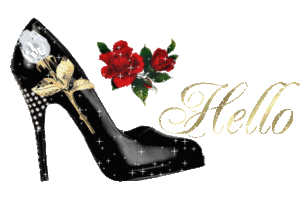 tout le monde!
Hello my friends!
Je reviens ce soir avec une autre carte! Il s'agit d'une carte toute simple participant à trois défis.
I come back this evening with another card! It s 'agit d 'une very simple card participating in three challenges.
1)
Défi TPE159 du site "The Pink Elephant": suivre le sketch ci-dessous
.
1) Défi TPE159 of the site "

The Pink Elephant

": follow the sketch below.
2)
Défi Juillet et août du site "ABCDtchallenge": combo couleurs
.
2) Défi July and August of the site "

ABCDtchallenge

": combo colors.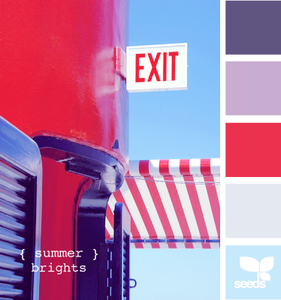 3)
Défi 33 du site "Ribbon Reel": Boutons et fils et ficelle
.
3) Defi 33 of the site "

Ribbon Reel

": Buttons and Ribbon/twine.
Voici mon interprétation!
Here is my interpretation!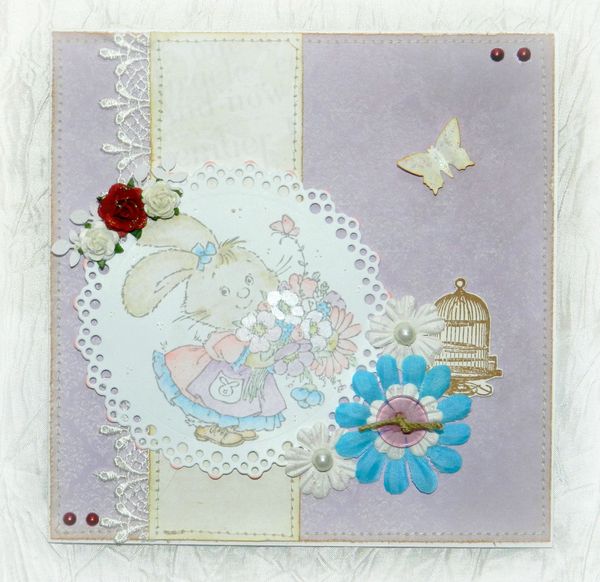 J'ai utilisé de la cartonnette pour faire la base. Ensuite, un papier mauve 3Dots est cousu avec ma machine à coudre. Une petite chute également cousue est collée dessus.
I have used by the cartonnette to make the foundation. Then, a mauve paper 3 Dots is sewed with my machine to be sewed. Small also sewed fall is glued
together over.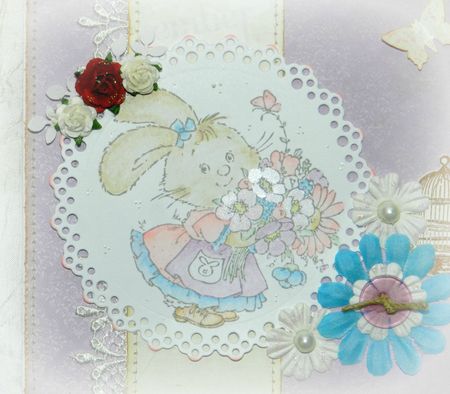 Le tampon est un tampon de la marque Nellie Snellen. Je l'ai colorisé avec des encres diverses: Distress Tea Dye et Old Paper; Colorbox; crème Creative Inspiration, Copic.
The stamp is a stamp of mark Nellie Snellen. I have it colorized with various inks: Distress Tea Dye and Old Paper; Colorbox; cream Creative Inspiration,
Copic.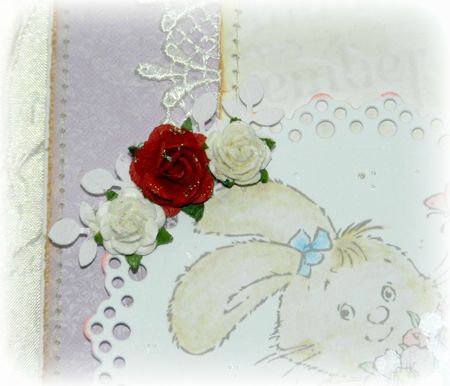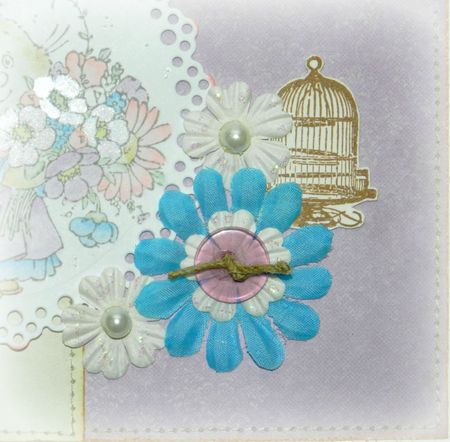 De la dentelle, des fleurs achetées chez Wild Orchid Crafts, un petit papillon, une fleur Bazzil bleue, des perles et un petit tampon cage décorent le tout.
Of the lace, flowers bought at Wild Orchid Crafts, a small butterfly, a blue flower Bazzil, pearls and a small stamp animal box decorate the whole. Flowers
and butterfly are covered with Glitter Stickels Diamond.
Je vous retrouve très bientôt pour une autre carte ainsi que des pages. A bientôt!
I find you very for another card as well as pages soon. See you soon!
Scrapbizssssssssss
Scrapkissessssss