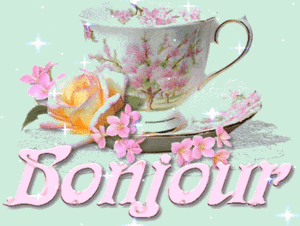 tout le monde!
Hello my friends!
Ce matin, je viens vous montrer ma page pour le challenge du site "
Once Upon A sketch
". Chaque mois, un nouveau sketch et un nouveau thème sont proposés sur ce site et vous avez un mois pour réaliser votre page.
This morning, I come to show you my page for the tournament of the site "

Once Upon A sketch

". Every month, a new sketch and a new topic are offered on this site and you are one month old to accomplish your page.
Voici le sketch de juillet
: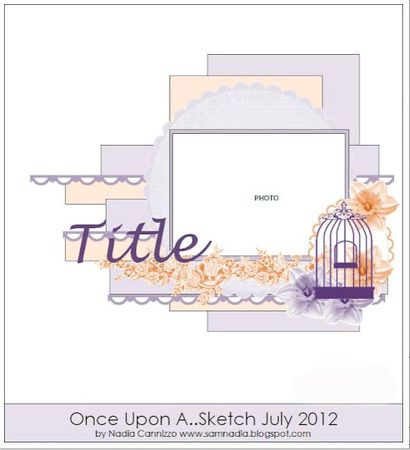 Le thème de ce mois est "L'amitié"
. C'est pourquoi j'ai choisi une photo de mon fils accompagné de son inséparable Thélia. Le thème colle à merveilles!
The topic of this month is " Friends ". It's why I have chosen a photograph of my son accompanied with inseparable sound Thélia. Topic sticks on marvels!
Voici ma page
:
Here is my page: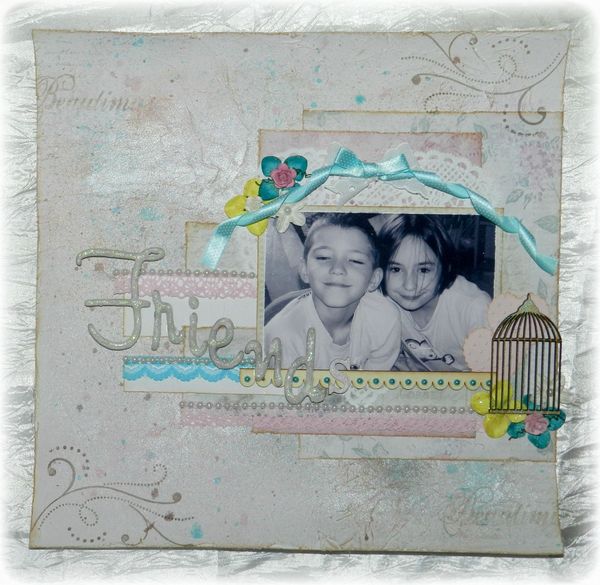 Les détails
:
Details: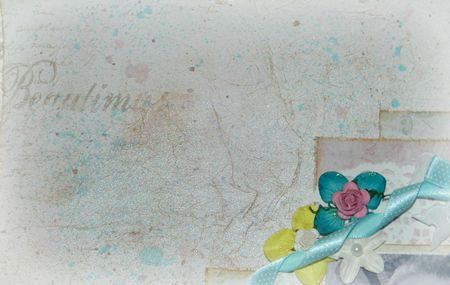 J'ai travaillé le fond de ma page (Cardstock Blanc) avec des mouchoirs en papier et du gesso. J'ai ensuite utilisé plusieurs encres Glimmer Mist (rose, marron, turquoise). Pour finir, j'ai passé au pinceau fin ici et là, de la Perfect Pearls cuivre, rose et bleu turquoise. J'ai tamponné dans l'angle supérieur droit et l'angle inférieur gauche, un tampon doodling Florilège Design. Dans l'angle supérieur gauche et inférieur droit, j'ai tamponné un tampon Prima "Beautimus" et un tampon fond Texte à l'encre Versafine Vintage Sépia.
I have worked the bottom of my page (Cardstock White) with paper tissues and the gesso. I have then used several inks Glimmer Mist (pink, brown, turquoise). To finish, I have crossed to the fine brush here and there, of Perfect Pearls copper, pink and turquoise. I have dabbed in the corner the upper right and the corner left inferior, a doodling stamp Anthology Design. In the corner left superior and right inferior, I have dabbed a stamp Prevailed " over Beautimus " and a stamp melts Text in the ink Versafine Vintage Sépia.
Tous les papiers sont usés puis encrés à l'encre Distress Tea Dye. La cage en bois est de chez
ScrapDésirs
et est recouverte très légèrement de Perfect Pearls pour un effet nacrés.
All papers are employed then inked in the ink Distress Tea Dye. The wooden animal box is from

ScrapDésirs

and covered very lightly with Perfect Pearls for an effect made pearly.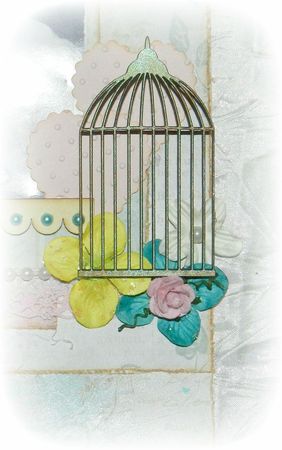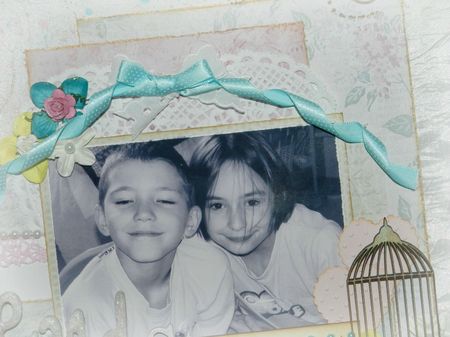 Quelques fleurs Prima, de la dentelle, du ruban de perles, des demies perles viennent décorer le tout.
Some flowers Prima, of the lace, the cordon of pearls, over demies pearls come to decorate the whole.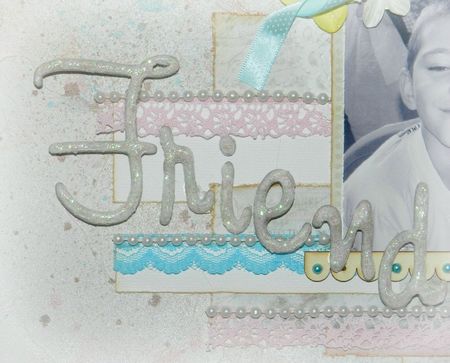 Pour le titre, les lettres en carton sont d'abord flockées avec du flock blanc, puis recouvertes de Crackle et enfin parsemées de paillettes.
For title, the pasteboard letters are d 'abord flockées with the white flock, then covered with Crackle and finally interspersed with spangles.
J'espère que cette petite page vous plait autant qu'à moi et je vous remercie pour tous vos adorables commentaires.
Je vous souhaite à tous une excellente journée.
I thank you for every your adorable comments and I wish you to all a very good day.